Vote for me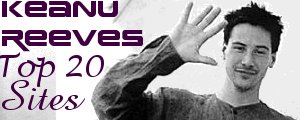 Submit your own sayings by clicking on the link above.

Hi and welcome to my Matrix fan page. In this page you will find tons of images, news, sounds, and more from my most favourite film The Matrix starring my most favourite actor Keanu Reeves. Please sign my guestbook and come again.
The Sequels
Did you know Keanu Reeves has signed to do two, count'em two, sequels to the special effects epic "The Matrix". It was said that he was receiving $20 million for each movie, but just earlier i heard that he is now going to receive either i think 10% or 30% on whatever is made from both films. The producers promised to hire his band Dogstar for the soundtrack. Laurence Fishburne and Carrie-Anne Moss will also be continuing to star in the sequels. Shooting on the sequels starts soon in Australia, and the second film will be released winter 2002.
Jet Li?
| | |
| --- | --- |
| | There's also been talk about Jet Li (star of Romeo Must Die) starring in the upcoming sequels to The Matrix. But there are some things they have to fix if he's coming on. The movies budget and finding a part for him for example. |
Fight Scenes-the effect
Those action packed fighting scenes in the movie "Matrix" were awesome. I was actually jumping back and forth, left and right in my seat as I watched Keanu (Neo) fight Laurence (Morpheus) in that dojo. I hope that Hong-Kong action movie master Yuen Wo-ping will train Keanu Reeves and the cast again. He would be able to show them how to do all those "KickAss" moves in the follow-up's to the movie. Yuen Wo-ping trained Keanu Reeves, Carrie-Anne Moss, and Laurence Fishburne for months before shooting the 1st Matrix.

More news can be found in my matrix news updates page.
The Plot
Matrix is a movie about a computer hacker named Thomus Anderson (a,k,a Neo) played by Keanu Reeves, which finds out that the world he lives in is nothing more than a computer generated (digital) world made to keep all of humanity in control so that in the real world, robots that have A,I can use'em as a form of energy to stay alive. Neo then is told by rebal leader Morpheus played by Laurence Fishburne, that he's the one to save all mankind from it. This movie is only the beginning for one of the best sequels ever i think.
The Watcher
The Watcher is one of Keanu Reeves's latest films released in theaters. I've seen it and wrote a review that's now on display in my movie review site. After clicking on the link, you'll also find my own other reviews for other films.

Charlie's hot mamma Angels are now playing
Charlie's Angels is now playing at a theater near you. The movie stars Cameron Diaz, Drew Barrymore, and Lucy Liu, with a cameo by Tom Green. Charlie's Angels must fight to defend the world or something. After seeing the commercials, i'm sure you've witnessed the martial-arts moves which could remind you of the film Matrix. But this time it's with Hollywoods hottest female actress's. Make sure to catch this exciting film. I did!

Carrie's Red Planet Premiere
RED CARPET PREMIERE of RED PLANET (starring Carrie-Anne Moss). This live Webcast happens this Monday, November 6, 6:30 p.m. PST/9:30 p.m. EST and stars Carrie-Anne Moss, Val Kilmer, and Benjamin Bratt will all be there! Be there!.... kinda.


---
Images- News Updates- Sounds- Animated GIF's- Webrings- Fan Art- Image of the week- Links Page- E-mail Me- Sign my Guestbook- View my Guestbook- Previous Poll Results- Official Matrix Site- My Homepage
Last Updated: November 14th/2000
This site was created and is maintained by Dane,A.
*Some information in this site was obtained from news-
papers and other sites on the subject.

FastCounter by bCentral


Images ©1999,2000 Warner Bros.